Keyword research is one of the most powerful and valuable ways to put your marketing dollars to use. If your company ranks for the right keywords, you will get more of the right visitors to your site – which ultimately translates to more sales.
By researching your market's keyword demand, you can learn the best terms and phrases to target and also learn more about who your customers are and what they want.
We created this guide to keyword research in 2019. Read on to learn all that goes into effective keyword research, complete with a list of the tools you need to succeed.
Click the following links to jump to those sections:
What is Keyword Research?
Keyword research is the task of figuring out which words and phrases your company can rank for by identifying the words and phrases people enter into search engines and how competitive those terms are to rank for.
In addition to understanding how many searches a particular keyword gets, research also helps you explore the different ways people use words to find an idea or topic.
For instance, if you own a boutique clothing store you may find it difficult to rank for "blue dress," against big name competitors. However, you may be able to rank for a keyword like "custom made blue dress <your location>" or "Where to find <specific brand> blue dress in <your location>."
What we look for in keyword research is opportunity. Opportunity to realistically rank for keywords that will drive targeted traffic to your site. And opportunity is a simple formula:
Relevancy + High Volume Search + Low Ranking Difficulty  = Opportunity
The great part about research like this is that it provides you with endless ideas for content that drives conversions, helps you learn more about your audience, and keeps you ahead of industry trends.
When Should I Do Keyword Research?
Keyword research should be an ongoing process that helps you develop and maintain consistently strong search rankings. Search language is constantly shifting and you have to keep up with trends as well as the demands of your audience in order for your business to grow.
You should do keyword research every time you are adding a new piece of content to your site, promoting a particular product or service, or altering your site in any way. Putting up new content on your site without first doing keyword research is like flying blind.
Anytime you do keyword research, try to keep a running list of keywords that you can repurpose over time. For instance, if you're searching for a keyword to use for your website homepage, chances are that some of the options you come up with will make great keywords for blog content.
You can double your research efforts by applying the findings to your overall content marketing strategy.
How Do I Start Keyword Research?
The best way to start your keyword research is to brainstorm a topic, idea or head keyword. Start by asking yourself what you would search for when looking for your site, service, or product. Create your list and ask team members or friends to add to it with what they would search for.
You can even begin by delving into competitors websites and social networks to take a look at keywords and variations that pop out at you. Ask yourself what topics related to your business are of interest to people searching.
Pro Tip: Start a Google Spreadsheet for your keyword research. Over time this list will grow and this sheet will evolve and keep you organized.
Once you have a general list of topics, you can use the following methods to help you narrow the selection down to more specific words:
Google and YouTube Suggest
Take each topic from your list and type it into Google. You'll see a list of terms pop up underneath the search box – these are suggestions that Google is making based on what people have searched in relation to your topic. Add these suggestions to your list.
You can do the same thing on YouTube's site to find search terms for videos.
Searches Related To
Google also offers a "Searches Related To" section at the bottom of their search results screen. If you type in your topic and scroll to the bottom of the page, you'll find a list of keywords that are closely related to your search term. These ideas also come from Google so it is safe to assume they are very popular search terms.
Reddit
Reddit is another smart way to find topics and keywords related to your industry. For example, let's say you build custom motorcycles. Head to Reddit and search a broad term like "motorcycles." Look for a related subreddit and then for threads that have a lot of comments, such as "bike builders" or "best motorcycle build." These would likely be good candidates to add to your keywords list as they have proven to be engaging for an audience interesting in motorcycles.
Pro Tip: Get on Reddit and become active in your niche. It will help you keep up with your industry and give you a chance to get direct feedback on ideas.
Analyzing and Choosing Keywords
So now you should have a list of keywords, but how do you choose the best fit for your business? Here are some factors to analyze in order to help you choose the right keyword.
Search Volume
Search volume is simply the amount of people that are searching for a word or phrase. The more people are searching, the more traffic you are likely to get by ranking well for a given keyword. Search volume will differ by industry and product/service, so it's important to figure out the right high and low search volume within your niche.
Difficulty
Choosing a keyword isn't just about picking one that gets tons of clicks. You want one that has a decent search volume but also low competition, especially if your site is new or doesn't get much traffic yet. That is considered a "low difficulty" keyword – as in, it's not difficult to rank for.
CPC
Cost-per-Click is an important metric when it comes to keywords because it tells you how likely searchers are to spend money. If the CPC on a keyword is $8.15, that means that people are spending $8.15 every time someone searching for that keyword clicks on an ad. Even if it has a low search volume, the CPC makes up for it.
Fit
Another important part of keyword selection is simply deciding which words are a good fit for your business. The keyword should be relevant, appeal to your users and be related to what you are selling.
Trends
Keywords can trend up or down and you want to stay abreast of how much interest your keywords are getting. If a certain keyword is not getting many visitors today but has shown a growing interest over time, it might be worth optimizing content around that word in hopes of getting more traffic in the future. It's easy to find this information using Google Trends.
User Intent
Sometimes a keyword can have multiple meanings and what different people want from a keyword can vary.
For example, if someone searches "mercury" are they looking for the planet, the chemical element, the Roman god, or the WNBA basketball team?
This is why you must think about user intent.
What is it the searcher wants to know when they type in a certain keyword?
Are you able to provide that information and is it relevant to your business? If so, that's probably a good keyword for you to target.
Read and analyze the search results for your target keywords to better understand user intent. Those subheading, topics, and questions you see in multiple results will give you an idea of what users find important and you should include in your content.
Informational vs. Transactional Keywords
There are two main categories of keywords you want to target: informational and transactional.
Informational keywords are when the searchers is looking for general knowledge about a topic or product, but not necessarily looking to make a purchase yet. For example:
what are the benefits of [product] ?
what is the nutritional value of  [product] ?
what is the latest news about [topic] ?
Though these potential customers may not be ready to buy, it's important to rank for these keywords with authoritative ands helpful content to establish your site as a trusted source of information about your niche.
Transactional or high intent keywords are more related to an action and usually means the searcher either intends to or is highly considering a purchase. These keywords tend to be more competitive and therefore more difficult to rank for. For example:
best [product]
buy [product]
where can I find [product]
Here is where informational and transactional keywords lie in relation to your customer sales funnel: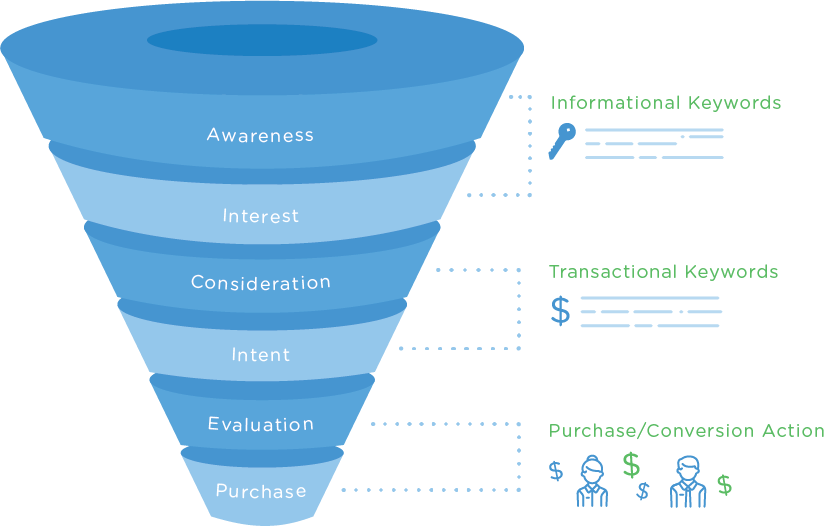 Informational keywords help you grow awareness and trust within your niche. Transactional keywords are the money makers and will lead to more conversions on your site. Ranking for both informational and transactional keywords will keep your sales funnel from springing a leak.
Popular Keyword Modifiers
No matter the industry there are certain keyword modifiers that are universally used. Here are a few of the most commonly found keyword modifiers:
where to buy [product]
[product] near me
the best [product]
[product] interview questions
[product] checklist
[product] tutorial
difference between [product 1] and [product 2]
[product] tips
how to [product]
Plug these modifiers into your existing list and see if there are any high volume and low difficulty phrases worth targeting. There should be a few.
Keyword Research Tools
At this point you should have a decent list of keywords to get started with. You now have to questions to answer:
 Which of these keywords has the most search volume?
 How difficult will it be to rank for these keywords?
Search volume and keyword difficulty (KD) are going to be your two leading metrics in prioritizing your keyword list and knowing which keywords to target first.
Here is where keyword research tools come in. Here are a few of our favorites:
Ahrefs Keywords Explorer (Paid)
Ahrefs recently released an updated "Keywords Explorer" that offers super in-depth info on each keyword. Our SEO experts at CruiseControl.co use it every day and for our money it's the best tool in the game.
You can see keyword difficulty, search volume, clicks, and cost-per-click (CPC). Keyword Explorer also generates a list of keyword ideas and questions to answer with your content. This is an immensely valuable and time saving tool.
Side Note: We are big Ahrefs fans here and highly recommend reading their excellent blog as well.
Google Keyword Planner (Free)
GKP is pretty basic compared to a lot of the other tools available. But it's worth using because it relies on Google data, which is the best you can get.

Enter a search term and it will give you a list of related terms, their average monthly searches and level of competition. It also tells you how much advertisers are bidding on a keyword – the higher the number, the more more competitive these keywords likely are.
Keywords Everywhere (Free)
Keywords Everywhere is a free tool that displays keyword data on top of 10 websites so the data shows up in your Chrome browser. It also offers a feature called "People Also Search For" which provides a list of keywords related to your search term. This means you can find keywords that your customers are searching for – even if they aren't searching for exactly what you sell.
SEMRush (Paid)
SEMRush doesn't provide keyword ideas. Instead, it shows you the keywords that your competitors are already ranking for. Just enter a competitor's domain name in the field at the top of the page. 
The SEMrush Rank is where the site ranks in SEMRush's database. Keywords is the estimated amount of monthly organic visitors from Google. Traffic Cost tells you how valuable the traffic is. This is a paid keyword tool but it's incredibly valuable because you can just grab the same keywords that your competition is already ranking for. No guesswork involved.
Ubersuggest (Free)
Ubersuggest is a tool that scrapes Google's suggested keywords and gives you data on each one, such as search volume, CPC, keyword difficulty and more.

You can also see the content in your space that people are linking to, which can give you ideas for content creation in your niche.
Pro Tip: Reach out to the hosts of the linked content and ask them to backlink to your, hopefully superior, content. We'll get more into that in our link building guide.
Keyword Research Template
Start your keyword research now!
This template will help you get started with keyword research and develop your content strategy.
Conclusion
Keyword research is the first step in creating content for your website and the most essential part of your SEO and content marketing strategy.
Before you make your website live or post additional content, you need to consider which search terms you want to rank for based on the terms your audience is searching for.
Finding the right keywords helps to increase conversions, grow your audience and optimize marketing spend.
By researching your market's keyword demand, you can not only learn which words and phrases to target with SEO, but also learn more about your customers and better serve their needs.
Have questions about doing keyword research? Contact us today!
CruiseControl.co is a content marketing solution driven by data-rich content strategies, expert writers, and advanced analytics. Learn More.